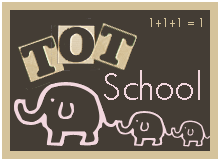 Small Fry is 38 months old.
I have been soaking up Carisa's website over at 1+1+1=1. Such a great resource for those who have a toddler ages 1-3ish. I have found that while I school my older boys my youngest little guy is keeping himself busy... but, he is ready for so much more! We've been doing some fun activities that work on his hand eye coordination, fine motor skills, color recognition, etc. He loves to play with these types of things and he is so proud to accomplish them!
Here are a few things that we worked on this past week. Lots of fine motor skills projects. I have to say it's been easy to fit this into our day because I am not back into full-time homeschooling the two older boys. So this has been a fun treat for me too! Now, I just have to figure out how to fit it all into the master schedule.... hmmmmmm.
Stringing fruit loop type cereal on a pipe cleaner.
So proud of himself!!
Using tongs to grab a cottonball and put it in the Christmas tree ice tray.
Putting them back in the pitcher was a little easier for him.
Learning to cut paper with his new toddler scissors. He really had to concentrate to figure out how to do this... lots of help from Mommy!
He glued the scraps that he cut to a black piece of construction paper.
He loved this project!
First exposure to the letter A (well other than Sesame Street)
He loves using his dot-a-dot paints.
His first lacing card... with a little help from Mom. :-)
Just a fun shot of gross motor skills. Jabber Jaw and Small Fry.... :-)
If you want to check out more great Tot School ideas for your toddler, you definitely need to visit Carisa's website... here.