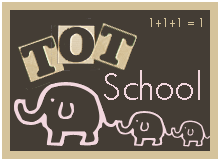 I have been soaking up Carisa's website over at
1+1+1=1
. Such a great resource for those who have a toddler ages 1-3ish. I have found that while I school my older boys my youngest little guy is keeping himself busy...
but
, he is ready for so much more! We've been doing some fun activities that work on his hand eye coordination, fine motor skills, color recognition, etc. He loves to play with these types of things and he is so proud to accomplish them!
Here are a few things that we worked on this past week. Lots of fine motor skills projects. I have to say it's been easy to fit this into our day because I am not back into full-time homeschooling the two older boys. So this has been a fun treat for me too! Now, I just have to figure out how to fit it all into the master schedule.... hmmmmmm.