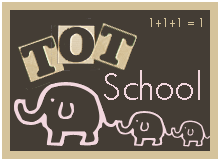 What is Tot School? It's a Meme that is hosted by Carissa at 1+1+1=1.
I stumbled across it recently and it has a wealth of information for toddlers with tons of fun activities to encourage learning!

It took me a few weeks, but I finally have my first Tot School post. It has been a little harder to swing consistent individual, fun learning time with Small Fry, especially as homeschooling the older two is kicking into high gear. But this past week we did it...... and we had fun!

Here is a recap of some of our activities:

We made colorful ziti and pasta wheels to use for making necklaces and other crafts. It was fun to put all the pasta into our individual color cups! I have photos of the outcome, but none of the actual process. Something about 6 cups of pasta in rubbing alcohol and a 2 year old... I didn't feel like I could grab the camera too! :-) If you're wondering where the blue pasta is, it took forever to color... (like another whole day), and when it was ready I just poured it in with the rest of the pasta, not realizing I didn't have a photo. Oh well.

Small Fry got to play with rice, and funnels and scoops this week. Now this might not seem like a big deal to some, but for him it's a first. For those who are new to our blog, Small Fry is recently adopted from Russia, and so there are some things he never got to do. Playing with his food was certainly one, and he is more sensitive to things getting on his hands. He doesn't like it much. But he loved playing with the rice. It was definitely different for him I could tell. I had to model this activity for him so he understood what he had to do. After he was all finished playing with the rice, I hid his little matchbox cars in there so he could dig around and find them. ;-)


Later that week we made Stop Signs for a craft project. He got to paint glue all over the back of a paper plate and help mama stick the red sign on top. His favorite thing to so is drive cars... whether they are matchbox type, or he himself is pretending to be a car, or he's driving one of his little ride on cars through out the house. So, this little sign came in handy this week. His brothers would take turns telling him to stop or go as he drove all around the house. Here he is telling me to S-T-O-P!


Finally, we also tried Play-doh for the first time. Another tactile sensory activity for my little guy. Let me tell you he wasn't too fond of it. (Even though the photos I took show otherwise. I don't think he "got" how to squeeze the dough and mold it, and I'm not sure he liked the feel of it in his hands. But, it was his first time, so we'll definitely try it again. Or it might be every mother's dream... a kid who just doesn't like Play-doh. (My carpets will thank me! )

So that's a quick wrap up of our week with our Tot. I definitely will keep my camera handy for those unexpected moments of learning! Have a great week!